I've never participated in a WWW Wednesday before, but I'm making an effort to be more active on my blog and I thought this would be a perfect way! For those of you who don't know: WWW Wednesday is a book meme hosted by Taking on a World of Words where you answer 3 'what' questions about your reading.  I'm not planning on doing this meme every Wednesday, but I'm thinking once or twice a month from here on out since the only other time I talk about my current reads is on my monthly wrap-ups.
Also, as I mentioned before; I'm trying to be more active and lately I've been posting every other day since my semester ended at the beginning of May. But I'm starting a summer job, today actually (yikes! please keep your fingers crossed it goes well for me), so I wanted to let you guys know that my posts will probably go back to a schedule of every 3-5 days.
---
What are you currently reading?
Whisper of the Tide– I started reading this book a week ago and it's taking me forever to get through. Thankfully though when I went to read a little before bed the other night the action started picking up and I spent 1.5 hours reading instead of the original 15 minutes I had planned to. It's definitely an enjoyable to read, but now that I'm on the sequel I'm truly realizing how the author's writing style does not work for me. Action is often written very subtlety, big time jumps happen in order to focus on interesting interactions/action, and loads of intense action-y scenes are written back-to-back with no real obstacle/struggle to them. I'm a little over halfway in this book and I'm hoping to finish by the end of the week so I can get a review up on the ARC soon.
Celtic Tales– I'm not really in a rush to read this (so it might appear on my next WWW for this question too!) and I'm just planning on reading the tales as it's convenient. I've read 2 stories so far and they've been okay, but I'm hoping they'll get better as I go along.
What did you recently finish reading?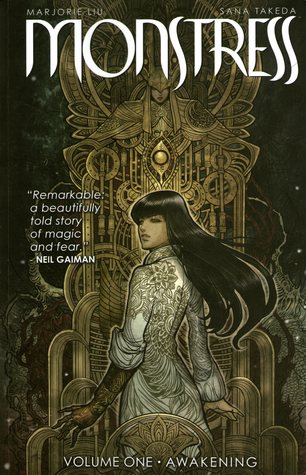 I just finished reading Monstress on Monday! I'm still figuring out my thoughts in order to write a mini review on this graphic novel, but I was totally enthralled by this world and these characters! This book was a lot more darker, gruesome, and explicit than I originally anticipated, but I can't wait to see where it will go in the next volume! Fingers crossed the next book comes in soon for me at the library!
What do you think you'll read next?
Once I finish Whisper of the Tide I think I'm either going to start The Bird and the Blade or The Upside of Unrequited. I was lucky enough to snag an e-ARC of The Bird and the Blade because I'm participating in a blog tour for it at the beginning of June (my first ever blog tour! I'm so psyched!). The Bird and the Blade is one of my most anticipated reads of the year and I'm really excited to start but I also included The Upside of Unrequited as an option because I'm thinking I might need a contemporary to cleanse my palette before I begin reading it.
---
So, what are you guys currently reading? How's the month of May been going for you all? Let me know in the comments; I would love to talk with you guys!