***I received this book free from a Goodreads giveaway***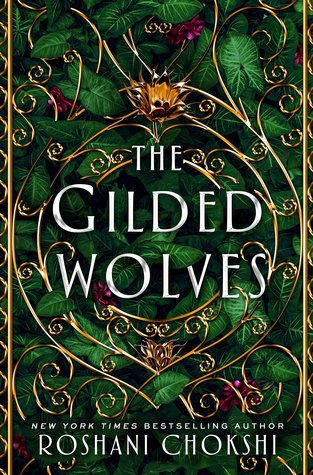 THE GILDED WOLVES

by Roshani Chokshi
Release Date: January 15th, 2019
(yes, I know I'm late in posting this)
Genre: Fantasy, Historical Fiction, Young Adult
Publisher: Wednesday Books
At first, honestly I wasn't that intrigued by this book. I tend to prefer high fantasy over historical fantasy and I tend to avoid books that have 3+ perspectives. But after the first couple of chapters of this book, I was hooked! I read this book in last then 2 days (which I consider fairly impressive because the book I had read prior took me 9 days). This book was amazing on so many accounts: diversity, the constant intrigue, the magic system, etc. Though I was a little surprised by the pacing at the end, I can't wait to see where Roshani Chokshi will take this story in the sequel!
The Gilded Wolves follows five characters who have become their own make-shift family in this magical 1889 Paris: Séverin, Enrique, Laila, Zofi, and Tristan. The five of them live at the luxurious hotel that Séverin owns and together they "reacquire" objects that use to belong to Séverin's family. One day, an opportunity arises for Séverin to reclaim his inheritance, in exchange for a magical object hidden deep in the vaults of a House of the Order of Babel, a powerful, secret society. As the group crafts a plan that could lead to all their desires, they realize that there are hidden forces at play that could change their world as they know it.
One of the best things about this book was the cast of protagonists. Chokshi does not disappoint in providing a lovable, diverse group (diverse in terms of ethnicity, sexuality, and neurodiversity) of characters. I loved their bickering and how they worked together as a team. Picking favorites is hard, but if I had to choose, my top three were Laila, Zofi, and Enrique. I will say though, that I got a lot of Six of Crows vibes and parallels from these characters, especially from Séverin and Laila (though keep in mind when I say this that I've only read the first book in the SoC duology). Whether this is a good or bad thing depends on the reader. Nonetheless, these characters did not fail to sneak their way into my heart!
Something that was really unique about this book was the magic system. In The Gilded Wolves, using magic is called Forging. This ability is genetic, and is separated into two affinities: mind and matter. A matter affinity is tied to a specific type of material state (solid, liquid, or gas). These abilities offer a wide range of potential outputs, thus resulting in a magical steampunk-esque historical Paris (think holograms, magical statue guards, dresses that are "alive", plants that produce glasses of wines, etc.). This world was so fascinating with its seemingly endless possibilities, that I did wish that Chokshi had explained more of the limitations of Forging, but this could have perhaps been a slight underdevelopment of the ARC I read.
And as I briefly mentioned above, I was slightly thrown off by the pacing at the end of the book. The climax scene seemed to happen too early, and the following scenes felt a little rushed in order to set up the sequel, leaving me with multiple questions. Again, my issue with this aspect may be due to the fact that I read an ARC and not the final copy.
A quick side note: As I was reading this book, by complete luck, I found out that Roshani Chokshi was having a book event close by. The event was with Melissa Albert (author of The Hazel Wood), and S.A. Chakraborty (author of The City of Brass). Hearing them all speak about their books and writing experiences was so amazing and inspiring, especially Roshani Chokski. She was so sweet, funny, and pure (ahhhhh, why can't she be my friend??). She seems like such a fabulous person and all I want to do now is go out and buy all her books to support her!
(And yes, I was very awkward and totally stammered when I talked to her as she signed my ARC.)
Overall, Chokshi's writing and her beautiful characters led me to really enjoy this book. Anyone who loves YA fantasy should give this book a try. Personally, I can't wait to read Chokshi's other works because I can totally see her climbing up to my favorite authors list.
Rating: 4 stars
"…so, are you my book?"
"I'm an exciting new book whose series might stalk its way into your heart!"